Cameron vow after Britain's anti-EU party UKIP wins second MP
Comments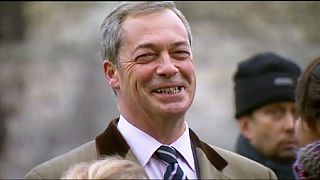 Britain's anti-EU party UKIP has won its second UK parliamentary seat in a bitter blow to Prime Minister David Cameron.
A vote was triggered in the Rochester and Strood constituency after its sitting MP Mark Reckless defected from Cameron's Conservative party to UKIP.
Now Cameron wants that seat back in elections set for May 2015.
"I'm absolutely determined to win this seat back at the next general election, because anything other than a Conservative government will put our recovery at risk and mean Ed Miliband [leader of opposition Labour party] in Downing Street and I'm more determined than ever to make sure that we deliver security for Britain," said the prime minister.
The victory for UKIP, the UK Independence Party, is expected to unsettle businesses, investors and European partners. They fear Britain could be sliding towards an exit from the European Union as Cameron becomes ever more Eurosceptic to see off the threat from UKIP.