Italian court frees Swiss asbestos polluter accused of involvement in 3000 deaths worldwide
Comments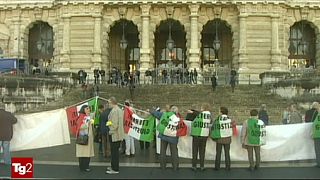 Italy's Supreme Court has handed down a decision that has the country up in arms and angry that an industrial polluter appears to have got away without any responsibility for the deaths of nearly 3000 people worldwide from asbestos poisoning.
Swiss owner of Eternit asbestos Stephan Schmidheiny was a major shareholder in Eternit's Italian operations when they went bust in 1986. More than 2000 of those who fell ill and died worked at Eternit's three Italian factories, but the Supreme Court ruled on appeal that the statute of limitations should have taken effect in 1998.
"It's surprised us all, as much for its theatricality, as it all seemed decided in advance. We were joking that everything had been said already," said one victim's relative.
"This sentence is like an amnesty. Italy wanted to set an example for the rest of the world, but now they tell us he's a free man no longer under accusation," said another family member of a victim. None of those who died will now get any compensation.
The court thus reversed the guilty verdict reached in 2012 giving Schmidheiny 16 years in jail. In his first appeal the following year this was increased to 18 years.
Family members of victims shouted "shame" in the public gallery on hearing the verdict.