Amnesty launches tool to combat government suveillance
Comments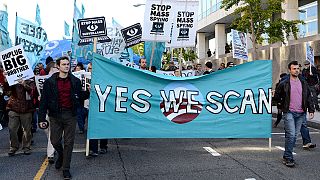 Amnesty International has launched a tool that spots signs of governments and intelligence agencies snooping on your computer.
The new software, called Detekt, searches for surveillance spyware used to target human rights defenders and journalists, says Amnesty, particularly as this is a blind spot within anti-virus software.
Governments and intelligence agencies can read personal emails, listen to Skype calls and even remotely turn on your computer's camera and microphone without the owner knowing, it says.
"The latest technologies enable governments to track, monitor and spy on people's activities like never before," the human rights watchdog added.
"In many cases, the information they gather through those means is used to detain, imprison and even torture activists into confessing to crimes."
How to fight back! #Detekt, why & how it helps. http://t.co/rqW7ocOZsAAmnestyOnline</a> + <a href="https://twitter.com/digiges">digigesEFF</a> <a href="https://twitter.com/privacyint">privacyintpic.twitter.com/z6UZRJyKat

— Salil Shetty (@SalilShetty) 20 Novembre 2014
The organisation hopes by alerting those to the fact that they are being spied on, they will be able to take precautions.
While Detekt is a useful tool it may not be able to trace all forms of spyware.
But Amnesty hopes the launch will make people aware of what could happen. It says the global surveillance industry is worth around US$5 billion a year and European and US companies have been cashing in by quietly selling surveillance equipment to countries with questionable human rights records.
The body quotes work done by Privacy International, a UK Charity, which has documented the development, sale and export of surveillance technologies by private companies to regimes around the world. Recipient countries include: Bahrain, Bangladesh, Egypt, Ethiopia, Libya, Morocco, South Africa, Syria and Turkmenistan.
"The growing trend in indiscriminate mass surveillance on a global scale was laid bare by the Edward Snowden disclosures," Amnesty said. "Following the lead of the USA and other industrialised countries, governments everywhere now justify the use of such surveillance. This has a chilling effect on the rights to freedom of expression and peaceful assembly in countries across the world."​
Amnesty.org Detekt: Questions and Answers
Photo credit: Flickr @ stephenmelkisethian