Japanese PM Abe calls early election
Comments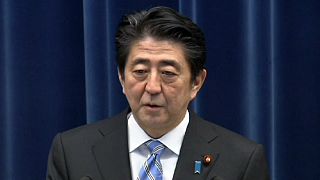 The Japanese Prime Minister has called a snap election two years ahead of Schedule.
Shinzo Abe says he will dissolve the lower house of parliament on November 21 and will delay an unpopular rise in sales tax until 2017.
The first rise from 5% to 8% took place in April and the next increase to 10% was set for October 2015.
Abe was elected two years ago with a mandate to boost the economy but it has faultered.
Figures released on Monday show that Japan has fallen into technical recession.
Although Shinzo Abe's popularity has declined to just below 50 percent, by calling the election now – while the opposition is in disarray – his Liberal Democrat Party should be able to consolidate power in the lower house.
The election is expected to take place in mid-December.