WISE honour for Ann Cotton, Africa women's education campaigner
Comments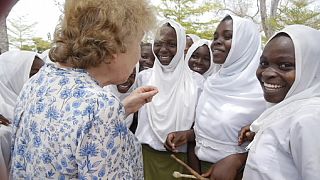 Putting creativity at the heart of education is the main theme of this year's World Innovation Summit taking place in Qatar until November 6.
Some 1,500 experts, practitioners and decision-makers from all around the world are in Doha to share their experience and knowledge of common issues. The winner of what's considered the Nobel Prize of Education has also been revealed.
Our correspondent in Doha, Maha Barada says: "All eyes are on the winner of this year's Wise prize, worth half a million US dollars. Ann Cotton has impressed the jury and the participants with her dedication to providing education for girls and empowering women in Africa."
Cotton heads Camfed, a non-profit organisation which tackles poverty and inequality in sub-Saharan Africa, with a particular focus on supporting females in education, business and society.
Paying tribute to Cotton, Stavros Yiannouka, CEO of WISE said: "If you look at her lifetime work in Africa, I think no one can dispute that this is a woman who, through her work and through her organisation, has made a tremendous difference."
An international jury headed by the chairman of WISE, Abdullah bin Ali Al Thani, selected Cotton as this year's laureate: "Her Highness Sheikha Moza bint Nasser, chairperson of the Qatar Foundation, in introducing WISE last year, said that WISE is now a global movement that is sustainably embedding innovation in education," said Yiannouka. "That is really the ultimate measure of our success."
WISE is an initiative of the Qatar Foundation.