What question do you have for Olympic legend Nadia Comăneci?
Comments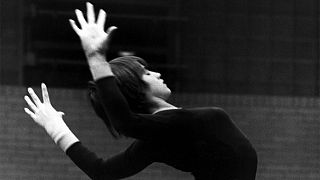 More than a quarter of a century ago gymnast Nadia Comaneci captured the world's attention. Today, she is still one of the best known athletes in the world, her name conjures up sporting perfection but also the harsh realities of Romania's Ceauceșcu regime.
At 14-years old Nadia Comaneci became an overnight sensation. Sporting cute pig-tails, this serious-looking slip of a girl from Romania made history, scoring the first ever perfect 10 at the Olympics for her performance on the uneven bars. She then went on to score a 10.0 six more times. She thrust gymnastics into the international spotlight and raised the standards of the sport. She returned to Romania a hero.
Nadia Comaneci is also remembered for her defection from Romania in 1989. She had become a useful tool for the regime – not only a source of revenue but also good for the country's tarnished image. In 1981 after the defection of her beloved coach to the US she was put under close surveillance, she was an all too valuable asset to lose. By 1989 she had had enough, found a people smuggler and risked her life to leave her homeland. She did not know if she would ever see her family again. However, a few weeks later the Ceauseșcu regime dramatically fell – Nicolae Ceacueșcu and his wife Elena were executed on Christmas day.
Nadia Comaneci now lives in the US with her husband and travels extensively delivering inspirational speeches, doing charity work and promoting gymnastics and fitness.
Have you got something to ask?
What question would you ask one of the world's Olympic legends? Comaneci will be meeting euronews' Isabelle Kumar on the The Global Conversation. Send your questions using #AskComaneci on Twitter or add it to the Facebook post below and we will select the best to ask during the interview.