Loukanikos, Greece's iconic 'riot dog', dies
Comments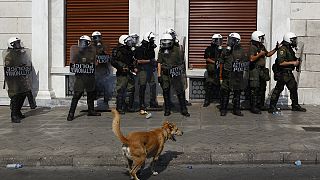 Loukanikos, the famous Greek dog that faced off with riot police during the height of the eurozone crisis, has died.
Loukanikos hit headlines in 2010, when he began appearing on the front line of anti-austerity protests.
The stray dog's health was apparently adversely affected by tear gas and from being kicked by police, forcing him to "retire" from active protest about two years ago. Greek media report that he passed away peacefully.
At the height of his fame, Loukanikos even featured in Time Magazine's review of 2011.
Loukanikos, whose name means 'sausage' in Greek, stopped attending protests in 2012, around the time that the eurozone crisis was easing. He swapped confrontations with tear gas and riot police for a simpler life with an Athens family, who gave him "all the care, love, food and vaccinations" a dog could need.
The stray became the symbol of Greek protests against the IMF and ECB-prompted austerity measures.