In pictures: Two Ryanair planes collide at Dublin airport
Comments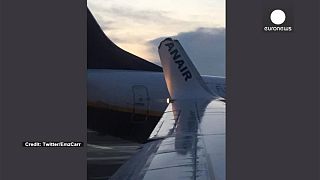 Two Ryanair planes collided on the ground at Dublin Airport early on Tuesday, October 7.
The wingtips of the two planes touched, with some damage visible in a photograph tweeted by a passenger. The wingtip from one plane has seemingly violently embedded itself in the tailplane of the other.
Dublin Airport returned to its normal flight schedule around 30 minutes after the incident.