Greece plans new bond sales, confirms 2015 growth target
Comments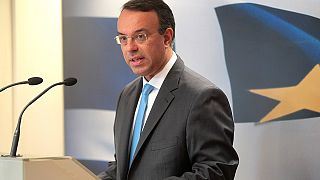 ATHENS (Reuters) – Greece will issue more bonds next year as it posts a second year of growth, the government forecast in its draft 2015 budget.
Athens said it would issue a seven-year and 10-year bond as well as a Treasury bill of over 26 weeks next year, emboldened by a successful return to debt markets earlier this year following a four-year hiatus.
Athens also confirmed it expects to report a budget surplus excluding interest payments of 2.9 percent of GDP next year, just shy of the 3 percent target set under the country's 240-billion-euro EU/IMF bailout.
The budget also predicted Greece's economy would grow 2.9 percent next year, in line with the bailout target.
"The country is entering into a long period of sustainable growth rate and primary budget surpluses, which will boost employment, cut unemployment and improve living standards for all citizens," Deputy Finance Minister Christos Staikouras told reporters.
"This is the result of unprecedented sacrifices by Greek households and businesses. And those sacrifices won't be wasted."
Athens is hoping it can exit its 240-billion-euro bailout package at the end of the year, over a year ahead of its scheduled end in early 2016, in a bid to rally austerity-weary Greeks and secure the fragile coalition government's survival.
Unemployment is expected to fall to 22.5 percent in 2015 from 24.5 percent this year, while debt is expected to fall to 168 percent of GDP from 175 percent this year, the draft budget said.
(Reporting by Lefteris Papadimas, Writing by Deepa Babington Editing by Jeremy Gaunt)