[As it happened] Still United Kingdom: Scottish voters reject independence
Comments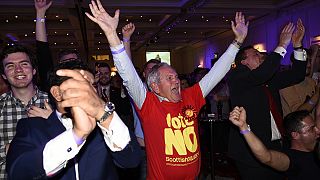 The final result in the Scottish Independence referendum was called just after seven on Friday morning to sighs of relief and tears of dismay, depending on your point of view.
The No vote won the day by around 55% to 45% after a night of tension as the count proceeded smoothly and the result came in. Turnout was 86%, one of the highest popular electoral mobilisations of all time, anywhere.
After much speculation about the outcome being on a knife-edge, and the accuracy of the opinion polls with all the additional 16 year-olds being factored in, the exact result was forecast by one pollster before 11pm last night. Peter Kellner, after conducting an exit poll of more than 8000 people said, "I have gone from 70% to 99% sure that will be the split."
Forty-five percent is nonetheless 1.6 million Scots prepared to go it alone, and in his speech conceding defeat, "at this stage", the Yes campaign leader and Scottish First Minister Alex Salmond's first words were to recognise that force for change. He warned London that its promise, late in the campaign as he ruefully noted, to give Scotland more powers was a promise the Scots would demand be rapidly respected.
IN SUMMARY
Scottish nationalist leader Alex Salmond concedes defeat
Salmond: Scotland expects London to honour its pledge of devolving more power
David Cameron congratulates the leader of the 'No' campaign