Briton diagnosed with Ebola discharged from hospital
Comments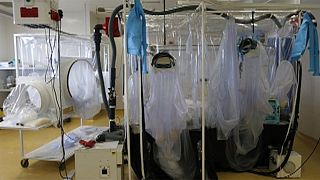 William Pooley, the first Briton confirmed to have contracted the Ebola virus, has spoken after being successfully treated and discharged from the Royal Free Hospital, London.
The volunteer nurse tested positive for the disease while in Sierra Leone but was airlifted to the UK and treated with the experimental ZMapp drug at the hospital's isolation unit.
After falling ill, the 29-year-old took a blood test. He recalls the moment he was given the result.
"I was woken early that evening by one of the WHO doctors and immediately I knew it was bad news, it's a bit disturbing to get that diagnosis. I was worried that I was going to die and I was scared.
"I was very lucky in several ways, firstly in the standard of care I received, which is a world apart from what people are receiving in West Africa at the moment.
"My symptoms never progressed to the worst stage of the disease, I've seen people dying horrible deaths, I had some unpleasant symptoms, but nothing compared to the worst of the disease."
Dr Michael Jacobs, a consultant at the Royal Free Hospital, said: "He is not infectious to anyone else now. The virus is cleared from the body, and there is no risk to the wider community in any way."​ d with Ebola discharged from hospital