11 people hurt in Swiss train derailment
Comments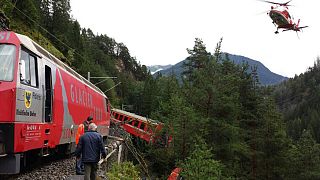 At least three carriages of a Swiss mountain train have derailed near the ski resort of St Moritz.
One of the carriages reportedly slid off the track onto a steep slope and was halted by trees.
Swiss television reported eleven people have been injured, five of them seriously. The other six had slight injuries.
Regional police say all 200 passengers who were on the train have been taken off.
The derailment happened southeast of Zurich as the train was traveling from Chur to St. Moritz, following a landslide on the tracks.
This latest incident comes two days after three people were killed in a separate train crash, which occurred after a train collided with a minivan in the centre of Switzerland.
Première photo du #train qui a déraillé en #Suisse suite à un glissement de terrain. (Via @20minutesOnline) pic.twitter.com/8qklc3LKbl

— Arnaud Tousch (@nanotousch) 13 Août 2014
Photo impressionnante de l'accident de #train en #Suisse (via @redaktion_tso) pic.twitter.com/FDEB1Hvcj5

— Arnaud Tousch (@nanotousch) 13 Août 2014
URGENT – #Déraillement#Suisse • Les premières images (@itele) pic.twitter.com/kBfQoluxOY

— Modern-Paper (@ModernPaperBlog) 13 Août 2014