Robin Williams' final tweet pledges love to his daughter
Comments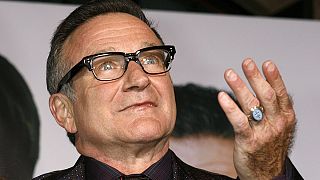 In his final posting on Twitter, actor Robin Williams – found dead on August 11 in an apparent suicide – wished his daughter Zelda Rae a happy 25th birthday.
#tbt and Happy Birthday to Ms. Zelda Rae Williams! Quarter of a century old today but always my… http://t.co/qlsWIu429e

— Robin Williams (@robinwilliams) July 31, 2014
One of the last posts on his Instagram account is a photo of a much younger Williams with toddler-aged Zelda.
Late on Monday, Zelda responded on Twitter: "I love you. I miss you. I'll try to keep looking up."
Following the news of his death social media was alight with appreciation for Williams, who introduced his boyish exuberance and outlandish vaudeville-esque style to audiences as a quirky extraterrestrial in the late 1970s TV comedy "Mork & Mindy."
US President Barack Obama called Williams a "one of a kind" actor who could make people laugh and cry in his array of characters.
"He arrived in our lives as an alien – but he ended up touching every element of the human spirit," Obama said in a statement.
"Robin Williams was an airman, a doctor, a genie, a nanny ... and everything in between. But he was one of a kind." —President Obama

— Barack Obama (@BarackObama) August 12, 2014
The Oscar-winning actor had openly talked about his struggles with drugs and alcohol. His publicist announced he had recently been battling 'severe depression'.
The death of Williams shook Hollywood, with many colleagues mourning the loss of what they called a 'big-hearted' man and one of the most inventive comedians of his time.
"Robin was a lightning storm of comic genius and our laughter was the thunder that sustained him," said Steven Spielberg, who directed Williams as Peter Pan in the 1991 film, "Hook."