Blood Strawberry trial: Farmers who shot Bangladeshi fruit pickers walk free in Greece
Comments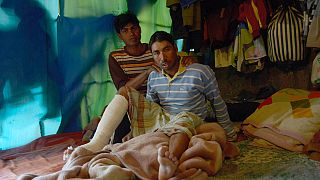 A Greek court decided to acquit farm workers who shot 28 Bangladeshi strawberry pickers on Wednesday. The owner of the farm in Manolada and a supervisor were allowed to walk free, whilst two foremen were sentenced to seven and fourteen years for causing grievous bodily harm. Those sentences are currently suspended pending appeal. The acquittal of the owner and supervisor however, cannot be appealed.
All four men denied the charges against them, claiming they were acting in self-defence.
The sentence was greeted with anger and disappointment by many on social media.
Something went very wrong yesterday #bloodstrawberries#manoladapic.twitter.com/hL2RWCmTmA

— Katja Lihtenvalner (@Lihtenvalner) July 31, 2014
guardian</a> <a href="https://twitter.com/SZ">SZlibe</a> <a href="https://twitter.com/nytimes">nytimes The shameful court decision for the #bloodstrawberries rises again the problem with the greek agrcltr porducts

— Dedalos (@dedalos_gl) July 30, 2014
Representing more than 160 frontline organisations working with undocumented migrants, Michele LeVoy, Director of the Platform for International Cooperation on Undocumented Migrants said:
"Undocumented migrant workers are regularly exploited throughout Europe, to a large extent because they are unable to enforce their labour rights and access justice for violations. The acquittal of these employers, who have even admitted to using violence against their workers, not only impacts these migrant workers but all workers in Europe."
In April, 2013 around 200 migrant labourers, mostly Bangladeshi, were demonstrating about unpaid wages when the farm workers opened fire on them. Four of the migrants were badly injured and rushed to hospital.
The violence against the migrant workers sparked angry protests in Greece and even a social media campaign to boycott the produce of the farms in Manolada.
#manolada#bloodstrawberries picked by migrants w/out pay documents healthcare & gun to the head. want to eat them? pic.twitter.com/t6f2bIZRUj

— ⎲ (kayoazul) <a href="https://twitter.com/kayoazul/statuses/324639106757976066">April 17, 2013</a></blockquote> <script async src="//platform.twitter.com/widgets.js" charset="utf-8"></script> <blockquote class="twitter-tweet" lang="en"><p>CliveRacism #Boycott#manolada#Bloodstrawberries Pls #RT to spread Internationally!!! #share#Greecepic.twitter.com/CnXRFILUuY— Kat's in the Cradle (@Canada__Kat) April 17, 2013
The migrant workers have still to receive up to six months-worth of back pay. They now face deportation when their work permits expire this September.
The EU moved to stem the tide of exploitation of seasonal workers earlier this year, voting on laws to improve conditions of those who have become known as Europe's modern-day slaves.