F1 Germany: Massa flips in first-corner crash
Comments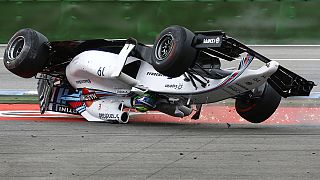 Williams driver Felipe Massa is out of the German Grand Prix after flipping on the first corner of the race.
Massa collided with the McLaren of Kevin Magnusson and flipped over, skidding along the side of the track upside down for a couple of seconds.
Fortunately, the Brazilian was able to walk out of the car and appeared unhurt.
It is the third race this season that Massa has had to retire from. He suffered an unlucky start in Australia, where he was hit by Kamui Kobayashi, and his bad luck continued in Malaysia due to botched team orders.
He was also involved in a collision with Sergio Perez in Canada, though he managed to continue, then at Silverstone last week he was not at fault when Kimi Raikonnen's Ferrari swerved into him.
Rosberg wins home race for Mercedes
Germany's Nico Rosberg capped a memorable eight days for himself and his country by winning his home grand prix for Mercedes on Sunday and stretching his overall lead in the Formula One championship to 14 points.
Following up Germany's World Cup triumph in Brazil last weekend, his wedding in Monaco and the signing of a new contract with Mercedes, Rosberg led untroubled from pole position to chequered flag.
Lewis Hamilton, his team mate and only real title rival, finished a fighting third after starting in 20th place and then charging through the field.
Finland's Valtteri Bottas took second place for Williams, his third podium finish in a row and a hefty 20.7 seconds behind Rosberg, after Brazilian team mate Felipe Massa crashed at the start in a collision that brought out the safety car.
Rosberg was the first to win for a works Mercedes team in Germany since Argentine Juan Manuel Fangio in 1954 and first German home winner for a German team since the championship started in 1950.
Rosberg now has 190 points to Hamilton's 176 with Australian Daniel Ricciardo on 106.