Two detained following deadly Moscow metro derailment
Comments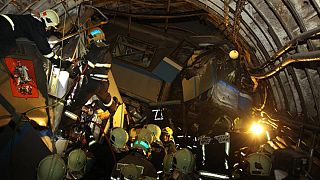 Two people have been arrested in connection with the derailment of an underground train in Moscow.
As the Russian capital began a day of mourning for those who died in the accident, state investigators announced they had detained two metro workers suspected of breaching safety regulations.
A track supervisor and assistant track supervisor have been taken in for questioning, according to Russia's Federal Investigative Committee. They are thought to have failed to properly monitor work carried out on a track switch mechanism in one of the underground tunnels.
In a statement, the committee said: "The work was carried out improperly. This resulted in the train coming off the rails, the deaths of 21 people and various injuries to more than 150 passengers."
Three carriages derailed during the morning rush-hour on Tuesday. Some 21 bodies were recovered from the packed train, while over 150 people were injured, 40 of whom were admitted to intensive care.
Moscow's metro system is the busiest of its kind in the world. This is the worst accident in several years, raising concerns about safety on the overcrowded network.