North Korea's Kim takes centre stage with a limp
Comments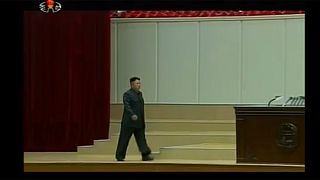 North Korean leader Kim Jong Un limped on to the stage on the anniversary of his grandfather's death, footage broadcast by state media on Tuesday showed. in a rare display of weakness in a country where leaders are portrayed as semi-divine.
The footage showed Kim limping quickly on to the centre of a large stage in front a vast smiling portrait of his grandfather, North Korean founding president Kim Il Sung, who died 20 years ago.
State media and propaganda are highly choreographed by the isolated country and any defects with its leadership are usually kept a tightly guarded secret.
Kim Il Sung, who ruled until his death in 1994, had a large and inoperable tennis-ball sized growth on the back of his neck which meant state media were forbidden from filming him from certain angles.
It was not immediately clear how Kim Jong Un developed the limp. State media has shown the 30 year-old leader conducting extensive military on the spot guidance visits on the east and west coasts in recent weeks.
North and South Korea are technically still at war after their 1950-53 civil conflict ended in a truce, not a peace treaty.
North Korea, which has threatened a fourth nuclear test in violation of U.N. sanctions, has test-fired short-range missiles and rockets three times in the past 10 days and threatened to continue doing so.
Source: Reuters