UKIP allegedly employed Eastern European migrants despite drive for tighter EU immigration
Comments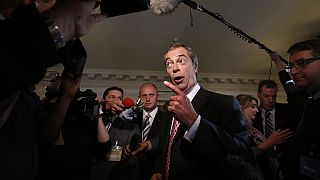 British anti-EU party UKIP, campaigning on a ticket of tighter immigration controls, has employed Eastern European migrants to distribute its election leaflets, it's been claimed.
Andrew Spalis, who works for distribution firm Fast Leaflet, told Huffington Post UK the firm had carried out leafleting for UKIP 'only yesterday'. He added the firm employs migrants from Latvia and other parts of Eastern Europe.
UKIP leader Nigel Farage, in an interview with euronews, said he wants to reduce net immigration into Britain to the 'low tens-of-thousands'.

His party's European election campaign was launched with a number of controversial billboard adverts, including one which read: "26 million people in Europe are looking for work. And whose jobs are they after?"
Farage, campaigning in Portsmouth recently, said: "When you boil it down to Romania, Bulgaria, Poland, Hungary, Latvia, Lithuania and Estonia, over a million of their workers are in Britain and only 42,000 British citizens are working in those countries."
Euronews asked UKIP to comment on this story, but the party has yet to respond.
UKIP

's European election posters