Watch: Drama as worker escapes raging inferno with just seconds to spare
Comments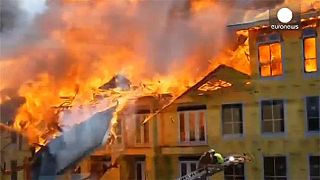 This is the dramatic moment a worker was rescued from a building site inferno – with just seconds to spare.
The footage shows the man clinging to a balcony as flames ripped through a planned $50-million (36.3m euros) complex in Houston, Texas.
With the roaring inferno intensifying, he is forced to jump from the top-floor balcony, down a level.
It is then that a rescue ladder arrives, carrying him to safety, just seconds before a section of the top floor collapses.
Investigators, it's been reported, are looking into whether the fire was starting during some welding.