Actress Patrice Wymore, widow of Errol Flynn, dies at age 87
Comments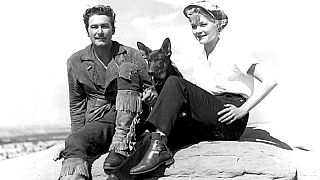 Actress Patrice Wymore, the wife of late actor Errol Flynn, died after suffering from pulmonary disease, a family spokesman said on Monday. She was 87.
Wymore passed away at her cattle ranch home in Portland, Jamaica, on Saturday, said Robb Callahan, a representative for the Flynn family.
The tall blonde Kansas-born actress began her career on the Broadway stage, but met Flynn, who was best known for playing the daring romantic leading man in the 1950 film "Rocky Mountain."
The couple married in late 1950 in Nice, France, and had a daughter, Arnella. Flynn died in 1959. Wymore never remarried.
Wymore's other notable roles included 1955's "King's Rhapsody" and 1960's "Ocean's Eleven" alongside Frank Sinatra, Dean Martin and Sammy Davis Jr. She also appeared on TV shows including "The Errol Flynn Theater" in 1956, and in 1965's "Never Too Young."
She retired from acting in 1970.
The actress is survived by a grandson, actor Luke Flynn, the only son of her late daughter Arnella.
REUTERS