Yemen: 20 soldiers killed at a military checkpoint
Comments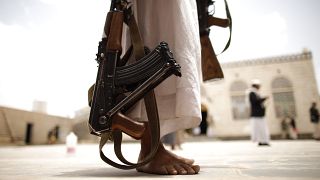 Twenty Yemeni soldiers have been killed and several others injured during a terrorist attack on a military checkpoint in eastern Yemen, said state news agency SABA on Monday.
The attack took place early morning in the Reida district, east of Hadramawt's provincial capital al-Mukalla, when most of the soldiers stationed at the checkpoint were asleep, a local official told Reuters.
Neither the total number of soldiers present during the raid nor the number of survivors, if any, has yet been confirmed.
Although no particular group has claimed responsibility for the attack, the Yemeni military is blaming Al-Qaeda in the Arabian Peninsula (AQAP), Al-Qaeda's branch in the Gulf region.
AQAP is accused of carrying out a series of violent attacks in Yemen, the latest of which targeted the central prison in the capital Sanaa' last month and left 12 soldiers dead. Authorities say it has also plotted attacks on government installations as well as on international airlines flying from Yemen.
Between separatists in the south of Yemen and armed rebels in the north, and occasional violent attacks by the AQAP, the political situation in Yemen is growing ever more violent, bringing back bloody memories of the 1994 civil war between former Northern and Southern Yemeni states.
Yemen plunged into political turmoil after nationwide protests forced former President Ali Abdullah Saleh, Yemen's ruler for more than three decades, to step down in 2012.
Yemen's neighbouring Gulf States, in addition to the US – a major ally of Saleh – are backing Yemen's military to restore authority for fear of internal violence spilling over into major Saudi shipping routes. Saudi Arabia is the world's largest oil exporter.