Israel 'intercepts ship carrying dozens of rockets intended for Gaza Strip'
Comments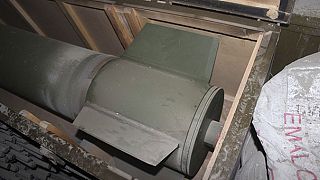 Israel says it has intercepted a ship carrying dozens of advanced Iranian-supplied rockets intended for guerrillas in the Gaza Strip.
Moshé Yaalon, Israel's defence minister, claimed the rockets had been supplied by Iran and made in Syria.
Hamas said the announcement was a "silly joke aimed at helping Israel to prolong the blockage of Gaza".
Israel's disclosure came as prime minister Benjamin Netanyahu was in the United States urging tougher action on Iran.
Yaalon said: "It appears once again that Iran continues to be the biggest exporter of terrorism in the world."
Lietenant Colonel Peter Lemer, a spokesman for the Israeli military, said the cargo, which was intercepted in the Red Sea, were weapons that could have struck deep into Israel from Gaza.
He added: "The M302 is its most advanced model can strike over 100 miles and, if they would have reached Gaza, ultimately that would have meant millions of Israelis under threat."
There was no immediate comment from Iran or Syria.
Israel and Islamist Hamas last fought a major conflict in November 2012. Hamas has largely held fire since but Israel says it has been trying to build up its capabilities. That has been made difficult, however, by a new military regime in Cairo which has cracked down on the Egyptian border with Gaza.
Netanyahu's office said that the prime minister, who was in Los Angeles on Wednesday after holding a White House meeting and addressing a pro-Israel lobby in Washington, had approved the ship seizure after consultations with his security chiefs.
"At the same time that it is talking to world powers, at the same time that Iran is smiling and saying all kinds of honeyed words, that same Iran is sending lethal weaponry to terrorist organisations and it is doing so in a complex web of covert, worldwide operations," Netanyahu said from Los Angeles.