At funeral home, 'dead' Mississippi man kicks to escape body bag
Comments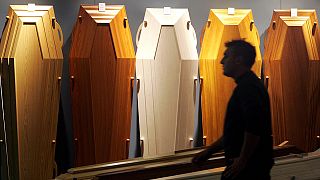 A funeral director in Mississippi got a bit of a shock this week when a man, brought to him in a body bag, kicked to get out just before he was to be embalmed, a local TV station reported.
"He was not dead, long story short," funeral director Byron Porter told broadcaster WAPT late on Thursday.
The man, Walter Williams, had been pronounced dead on Wednesday after the coroner arrived at his home in Lexington and found no pulse. Williams was then taken to the funeral home.
"I stood there and watched them put him in a body bag and zip it up," Williams' nephew, Eddie Hester, told the broadcaster.
Paramedics picked Williams up from the funeral home and took him to an area hospital, where he has been receiving treatment.
"I don't know how long he's going to be here, but I know he's back right now. That's all that matters," Hester told WAPT.
Reuters