Ukrainians take a look around Yanukovich compound
Comments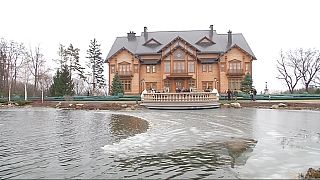 Ukrainians have had a first look around the grounds of President Viktor Yanukovich's residence outside the capital Kyiv since it was taken over by protesters.
Visitors who streamed into the compound have been in disbelief at the scale of the opulence. The property on 140 hectares in Mezhyhirya, an hours drive from the capital, has a golf course, helicopter pad and a garage full of classic cars worth millions.
"I can't believe it that we are all here and people actually got in here! Because it was so heavily guarded you could't get any near it. It's a real victory. Just think about it," said one man visiting the compound.
"I am very happy it's all drawing to a close and we are here yet we are sad about all the people who died," said one young woman.
Visitors also had a look around a ship converted into a restaurant on the grounds. Documents, some burned, have also been discovered, which are reportedly being examined.