Watch: Footballers invent 'human curling' in tribute to British success at Sochi Winter Olympics
Comments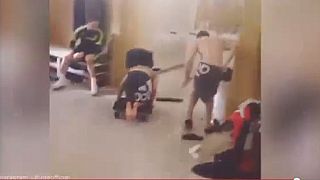 This is the lighthearted moment footballers from English Premier League team Southampton got into the spirit of the Sochi Winter Olympics.
The players attempt their own version of curling, using a trolley and a broom.
The gag reflects the popularity of curling in the UK at the moment – British teams have performed well in the sport in Russia. The women won bronze on Thursday while the men will go for gold on Friday.
The British team overall has had a good tournament – the country has claimed its best Winter Olympics medal haul since 1936.