UK: Six-day-old baby dies after family dog reportedly attacks her
Comments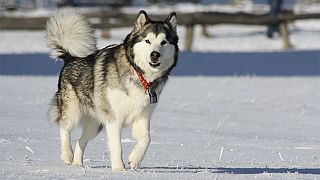 A six-day old baby has died after reportedly being attacked by her family's pet dog.
The baby girl died after being found at a property in New Road, Pontyberem, South Wales, on Tuesday morning.
Some UK media reports have quoted the baby's mother Sharon John as saying: "The dog ate my baby's head."
Police have not confirmed this version of events but they did say they had seized the family dog, an Alaskan Malamute.
Chief Inspector Ieuan Matthews, of Dyfed Powys Police, said: "The baby girl was just 6 days old.
"We were called by the Welsh Ambulance NHS Trust just before 8.30am this morning, and the baby was taken by helicopter to the Heath Hospital. Sadly she was later pronounced dead at University of Wales Hospital in Cardiff.
"The family dog – an Alaskan Malamute has been seized by Police in connection with the ongoing enquiry. I can confirm that this dog is not listed under the Dangerous Dogs Act."
The Dangerous Dogs Act was introduced in 1991, after attacks by canines on young children. It meant certain dogs, such as pit bull terriers, had to be registered with the authorities and muzzled and kept on a lead in public.