Miami museum visitor charged with breaking $1 mln Ai WeiWei vase
Comments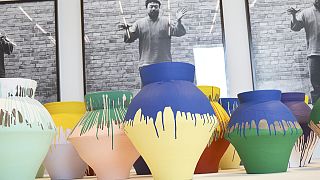 Miami police have arrested a local artist who they say destroyed a $1 million vase by Chinese dissident artist Ai Weiwei to protest that the city's newly opened museum is only displaying international art.
Dominican-born Maximo Caminero, 51, was arrested and charged on Sunday with criminal mischief after picking up one of 16 brightly painted vases at the Perez Art Museum Miami and throwing it to the ground when confronted by security, according to a police report.
He told police he broke the vase to protest that the museum "only displayed international artists," according to the police report.
Caminero, reached by telephone, told Reuters he is a painter and lives in Miami. He said he planned to host a news conference on Tuesday to explain his actions and declined to comment further.
He told the Miami New Times he had no idea the vase was so valuable, and said he was a fan of Ai.
"I didn't know that it was that amount," he told the paper's online edition, saying he thought it was "a common clay pot like you would find at Home Depot, frankly."
The 16 vases, each dipped in bright paint by Ai, are about 2,000 years old, dating back to China's Han Dynasty. The artist has long used ancient vases and artifacts in his work, drawing criticism that painting them defaces the original work.
Behind the installation in Miami is a backdrop of three photos showing him dropping a Han Dynasty urn. He also has painted the Coca-Cola logo onto several ancient vases. Caminero said his action was a spontaneous protest, in part inspired by the Chinese artist. "I was at PAMM and saw Ai Weiwei's photos behind the vases where he drops an ancient Chinese vase and breaks it. And I saw it as a provocation by Weiwei to join him in an act of performance protest," he told the New Times.
Ai has long attracted international attention for criticizing China's government policies on democracy, free speech and human rights. He disappeared abruptly in mid-2011 and was held without charges for nearly three months for alleged economic crimes.
The piece, titled "Colored Vases," is part of Ai's exhibit "According to What," which opened along with the museum in late 2013. The Herzog & de Meuron-designed waterfront museum opened in December, marking an important shift in Miami's cultural landscape as the city looks in part to shed its sun-and-fun image.
REUTERS