Turkish police break up anti-AKP demonstration in Ankara with water canons, tear gas
Comments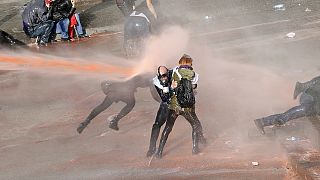 Violent clashes broke out between Turkish police and about 2,000 protesters near the parliament in Ankara, demanding the liberation of military officiers jailed for "conspiration against the regime," AFP reported.
The police force, who came in numbers, moved at midday with tear canisters and water cannons to push the protesters back towards the Turkish national assembly.
"We are here to request the liberation of all the patriots," Emine Altin, a protester, told AFP, while waving a Turkish flag. "Turkey is under the yoke of repression" by Prime Minister Recep Tayyip Erdogan, Altin added. "Now, it's a matter of life or death."
"No to the plot!", "Tayyip thief", chanted demonstators from several different political groups and parties.
The clashes with police left at least two wounded, AFP reported.
(with agencies)