Journalist deported for anti-government tweets in Turkey
Comments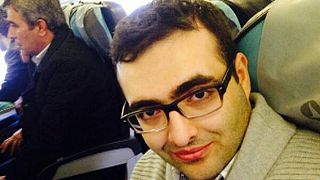 Mahir Zeynalov, an Azerbaijani journalist working for English-language newspaper Todays Zaman, was deported from Turkey on Friday morning, apparently for tweeting comments that were critical of the Turkish government, the Istanbul daily reported.
Zeynalov, who was escorted by police as he left the country, has been put on a list of foreign individuals who are barred from entering Turkey under Law No. 5683, for "posting tweets against high-level state officials."
Today's Zaman journalist @MahirZeynalov is being escorted by Turkish police for deportation. pic.twitter.com/jqFant2UzA

— Sevda Nur Arslan (@svdarslan) 7 Février 2014
A criminal complaint was filed by Turkey's Prime Minister Erdoğan against Zeynalov for tweets he posted on December 25 regarding the corruption scandal in the country.
The paper said Zeynalov was also accused of "trying to portray Erdoğan as protecting al-Qaeda members" in a tweet regarding an operation that targeted the terrorist organisation last month.
His employers say Zeynalov has a work permit that allows him to stay in Turkey until March 10, 2014. They also pointed out that Zeynalov is married to a Turkish national and would be eligible for Turkish nationality in three years.