US pranksters burn themselves trying to freeze boiling water in mid-air
Comments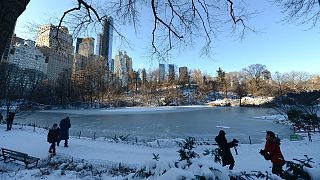 Scores of US pranksters were reportedly burned revelling in the novelty of record-breaking low temperatures.
At least 50 people were hurt as they tried to throw boiling water into the air and watch it freeze before it hit the ground, reported the Los Angeles Times.
The newspaper said it counted scores of people on social media trying the gimmick, as temperatures plunged to as low as -26 degrees.
A television reporter also demonstrated the trick live on air (from 1m10s).
See below for videos and pictures of pranksters injured trying the gimmick
Maybe throwing boiling water in the air last night wasn't a great idea. #ouch#burntpic.twitter.com/33fPaq2bTW

— Amanda Collins (@22_manda2012) January 7, 2014
Kyle burned his arm trying to do the boiling water trick hahahah pic.twitter.com/FXjEsLOQCu

— Nick Schweppe (@Schweeeeeet) January 6, 2014
So we tried to do one of those boiling water videos we have seen all day and we ended up at the ER lol #failpic.twitter.com/F8AGP3moof

— Kirstey Pembleton (@thirsty_kirstey) January 7, 2014