Two managers taken hostage at under-threat France factory - claim
Comments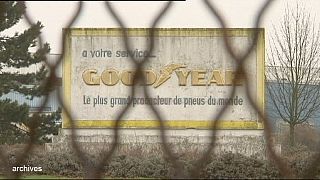 Two senior figures have been taken hostage at a French factory threatened with closure, it's been claimed.
CGT union said it had detained two managers at a Goodyear plant in Amiens, blocking them in a room with a huge tyre.
It is the latest controversy in a long-running battle over Goodyear's bid to close the factory – which employs around 1,173 workers – and shift production to China.
The CGT union confirmed it had "retained for the time being" production manager Michel Dheilly and human resources director Bernard Glesser.
CGT representative Franck Jurek said: "Even if it takes three or four days, they will not come out. We will search for a matress while we sleep there."
He added both managers have water and still have access to their mobile phones.
#goodyearpic.twitter.com/zyr6RJuWhh

— Goodyear amiens nord (@Goodyear_A_N) 6 Janvier 2014
#goodyear#amiens jusqu'ici tout va bien ;-) pic.twitter.com/3cymrsiRph

— Goodyear amiens nord (@Goodyear_A_N) 6 Janvier 2014