Shock at Femen activist's topless anti-Catholic protest in Vatican
Comments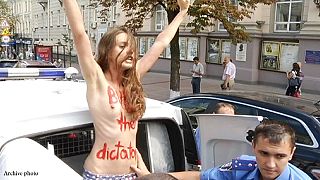 A member of the Ukrainian feminist group Femen protested against the Catholic Church's position on abortion by appearing topless in St Peter's Square in the Vatican on Thursday, shouting "Christmas is cancelled!"
Naked from the waist up, 23 year-old Inna Shevchenko started running towards the square before being stopped by police officers.
The phrase "Jesus is aborted" was written across Shevchenko's chest.
The activist was quickly taken away in a police car, covered in a blanket. At the same time, tourists and pilgrims looked on, astonished.
This is not the first time Femen activists have targeted St Peter's Square.
In January, four activists hit out at the Catholic Church's opposition to gay marriage .
Femen is a group from Ukraine whose members have drawn attention worldwide with nude stunts in Brussels and the Spanish Congress amongst others.
Watch the video
Read also