Michael Jordan's 'flu game' shoes sell for 76,225 euros
Comments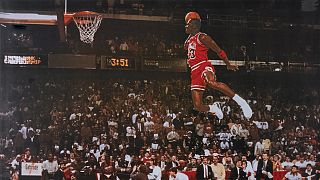 A pair of autographed shoes worn by basketball star Michael Jordan in the famous 1997 "flu game" during the NBA finals has sold at auction for a record-breaking $104,765, or 76,225 euros.
Grey Flannel Auctions in New York said an unidentified client scored the red-and-black sneakers after a bidding war erupted in the telephone and online auction. The previous record for shoes worn in any sport was also for a pair of Jordan shoes, which sold for $31,070 last month.
Jordan wore the sneakers in the June 11, 1997, game when he led the Chicago Bulls to a 90-88 win over the Utah Jazz, giving them an advantage in the finals. It was dubbed the "flu game" because Jordan was suffering from nausea and fatigue and nearly didn't play. The Chicago Bulls went on to win the NBA championship.
"There was a tremendous amount of interest not only in the sneakers, but in other lots in the sale. We're very pleased with the results," said Michael Russek, director of operations at Grey Flannel Auctions.
Preston Truman, a former Utah Jazz ball boy who received the shoes from Jordan after the game, sold them after keeping them locked in a bank for 16 years.
"I just didn't see the point to something so cool and a part of NBA history sitting at my bank anymore," Truman told the sports network ESPN.
A 1932 New York Yankees World Championship ring that sold for $65,048 and an autographed and handwritten copy of the "Take Me Out to the Ball Game" lyrics that fetched $35,801 were among the other highlights of the 900-lot auction.
The weeks-long sale had been due to end on Wednesday night but continued until Thursday morning because of active online bidding.
REUTERS