Cheers! US toasts 80th anniversary of Prohibition repeal
Comments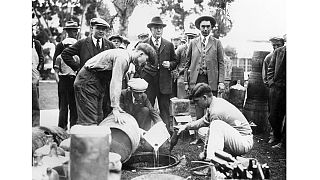 Many Americans today will toast the 80th anniversary of the repeal of Prohibition, a 14-year ban on the sale and production of alcoholic beverages that turned booze-smuggling thugs into celebrities and otherwise law-abiding citizens into criminals.
The ban ended 80 years today according, as the Eighteenth Amendment was repealed on December 5, 1933, with the ratification of the Twenty-first Amendment to the US Constitution.
Keeping the tradition alive
They may also want to toast one unintended consequence of Prohibition: a renaissance of cocktail creation that began as a way to make moonshine whiskey and bathtub gin more palatable.
Creative bartenders have kept the tradition alive, and it continues to this day. While the cocktail has been around since early 19th century, the combinations of spirits, sugars, water and bitters really started pouring into shakers during Prohibition.
In the 1920s, there were 15,000 speakeasies in Detroit, "Great Gatsby" author F. Scott Fitzgerald favored Gin Rickeys and politicians and the famous hid out at New York's "21 Club" with its secret wine cellar and disappearing bar.
Unlike saloons that were male bastions before Prohibition, speakeasies were coed and women, who had just gotten the vote, enjoyed a liberated lifestyle. "The whole Prohibition cocktail thing was to cover up the poor quality of the alcohol," said John McCarthy, a bartender at New York's Bathtub Gin lounge.
An estimated 10,000 people died of alcohol poisoning during Prohibition from bad bootleg whiskies, tainted gins and a federal government program that added poison to alcohol to frighten folks from imbibing, according to "The Poisoner's Handbook: Murder and the Birth of Forensic Medicine in Jazz Age New York."
(Reuters)
Credit photo CC BY Flickr/Orange County Archives http://eurone.ws/IRRdfw