US House of Representatives extends ban on undetectable plastic guns
Comments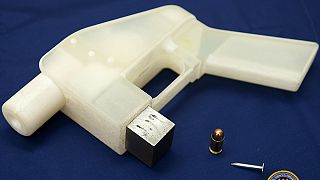 In a rare show of bipartisan unity, the United States Congress has passed the first gun legislation since the Sandy Hook School shooting in Connecticut a year ago. The House of Representatives voted on Tuesday in support of a bill that extends a ban on undetectable plastic guns for ten years.
One week before the Undetectable Firearms Act expires next Monday, the Republican-controlled chamber reauthorized the law by voice vote with Democrats consenting. On December 9, the Democratic-controlled Senate is scheduled to return from its Thanksgiving recess and is expected to pass the bill, as well.
But most Democrats support the law's extension only grudgingly, as they want the bill to go further. But given the political reality of the Washington gridlock, they know they cannot get a better deal.
"In our view, this bill is not perfect," said Congressman Steve Israel, calling it "a very good step." Israel and fellow New York Democrat Senator Charles Schumer want to expand the legislation to include weapons printed using 3D technology.
"The House bill is better than nothing, but it's not good enough. We absolutely must close the loophole that allows anyone to legally make a gun that could be rendered invisible by the easy removal of its metal part," said Schumer. "Under current law, it is legal to make a plastic gun so long as it has some metal in it, even if it is easily removable. The bill we'll try to pass in the Senate would fix that."
The Undetectable Firearms Act was first signed into law in 1988 by Ronald Reagan and has been renewed in 1998 for five years and in 2003 for ten years.
Yet, over the last 25 years, technology has evaluated. In the 1980s and 90s, 3D-printed weapons were speculative and very expensive. Today, you can easily find the blueprints for a functional 3D-printed gun on the Internet. 3D printers can manufacture plastic bullets and guns capable of firing 50 rounds.
Some Democrats believe guns entirely made of plastic that go unnoticed by metal detectors on airports, at schools or venues of presidential speeches create a whole new risk environment and should not be legalized.
But Republicans and some gun-rights groups warned against amending the existing law, fearing that it would serve as a backdoor to pushing new gun legislation like expanding background checks or limiting high-capacity magazines.
What facilitated the bill's passage in the House was an e-mail sent by the National Rifle Association to congressional offices shortly before the vote saying that while the NRA opposes any expansion of the Undetectable Firearms Act, the existing legislation does not do that.
With Congress split on gun legislation and the 2014 mid-term elections around the corner, it is unlikely that Congress will take up the 3D loophole again – to the dismay of federal authorities.
Attorney General Eric Holder and Department of Homeland Security have warned against widespread 3D printed guns, admitting the immense challenge posed to law enforcement.