Black eyes on Black Friday: American shoppers fight over bargains
Comments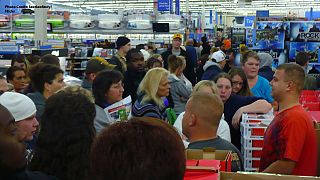 The day after the American Thanksgiving holiday is known as Black Friday and marks the start of the Christmas shopping season. Shoppers flood to department stores in search of discount prices on gifts. But the Sales season can be a stressful time and, as in previous years, many people succumbed to shopping rage.
In this video, two women are fighting over one television while a growing crowd watches on and films. Police officers had to step in to separate them, eventually pinning down one of the hysterically angry bargain hunters.
More footage from the same department store shows policemen taking a more passive role as a man barges his way through the madding crowds. The person who filmed the video meanwhile claims that he was escorted out for recording the scene.