American motorcycle racer Kurt Caselli dies in Mexico race
Comments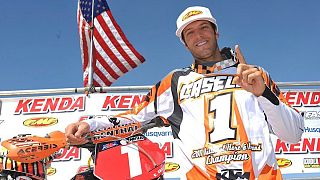 American motorcycle racer Kurt Caselli has died from injuries he suffered in an off-road race in Mexico's Baja California, a racing authority said on Saturday.
Caselli, 30, was competing in the SCORE Baja 1000 on his KTM motorcycle on Friday when he apparently lost control on a "sandy, high-speed section" of the route, said a statement on the website of SCORE International Off-Road Racing.
SCORE is a desert-racing sanctioning body based in Reno, Nevada.
Caselli, of Palmdale, California, suffered serious trauma in the accident, the organization said. "Our desert-racing family has lost a very special person in Kurt," SCORE President Roger Norman said in a statement.
"Kurt was a superb racer and this is a tragedy that effects us all. We extend our deepest condolences, thoughts and prayers to the Caselli family."
Caselli won numerous American and international racing events, including last year's SCORE San Felipe 250. He finished second and third in two SCORE races this year.
REUTERS