Would an independent Scotland make Britain more susceptible to terrorism?
Comments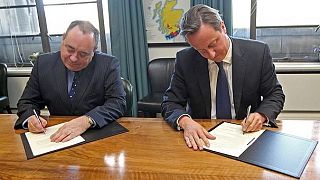 Britain's national security could be weakened if Scotland votes to leave the United Kingdom, it's been claimed.
A British government report said the current security network would be difficult to replicate for an independent Scotland. It said it would take time for Scotland to build up its own network, which would impact on Britain's security.
The intervention is part of the government's campaign to keep Scotland inside the United Kingdom.
Opinion polls suggest only a third of Scots back independence ahead of a vote on September 18, 2014.
The "Yes Scotland" campaign, led by the Scottish National Party (SNP), wants independence to be a reality by 2016 after next year's referendum.
It has tried to tap into an emotive cocktail of historical rivalry, opposing political tastes, and a perception that the British parliament in London does not nurture Scotland's interests, but has so far struggled to boost its support.
The SNP has argued that its pledge to remove Britain's submarine-based nuclear arsenal from Scotland in the event of a "Yes" vote and its determination to ensure Scottish troops no longer take part in what it calls "illegal wars" would make it less of a target for terror attacks.
But the report flatly rejected that contention, saying an independent Scotland would still face a wide range of risks.