Man who threatened police made to stand with sign calling himself an idiot
Comments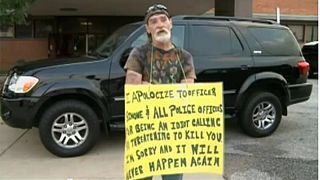 A judge has made a man who threatened to kill a police officer stand with a sign referring to himself as an idiot.
Richard Dameron, 58, from Ohio, US, was given the punishment by Cleveland Municipal Court Judge Pinkey Carr after making the threats during a 911 "emergency" call.
The sign reads: "I was being an idiot calling 911 and threatening to kill you. I'm sorry and it will never happen again."
He must stand outside Second District police station, Cleveland Ohio for three hours each day for a week.