Nobel Literature winner, Irish poet Seamus Heaney dies
Comments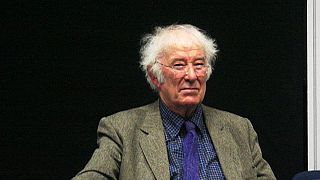 "Between my finger and my thumb
The squat pen rests.
I'll dig with it."
Seamus Heaney, from "Digging", Death of a Naturalist.
Seamus Heaney, acclaimed poet, playwright, lecturer and translator has died aged 74.
Heaney was born near Toomebridge, Northern Ireland but as a child moved to Bellaghy, Co Derry. He began his working life as a teacher before embarking on a distinguished career in poetry.
Widely recognised as one of the most prominent poets of the 20th century, Heaney received several notable awards including the Nobel Prize for Literature in 1995 "for works of lyrical beauty and ethical depth, which exalt everyday miracles and the living past."
It was announced in 2007 that Heaney's books make up two-thirds of all sales of living poets in Britain.
His other accolades include the Geoffrey Faber Memorial Prize (1968), the EM Forster Award (1975), the PEN Translation Prize (1985), the Golden Wreath of Poetry (2001), David Cohen Prize (2009), T. S. Eliot Prize (2006) and two Whitbread Prizes (1996 and 1999).
As a translator he was most famous for his version of the Anglo-Saxon "Beowulf", considered ground-breaking for his free and creative use of modern language.
Heaney suffered from a stroke some years ago and has since battled with ill-health.
Some of Heaney's well-known collections include Death of a Naturalist (1966), Wintering Out (1972), Seeing Things (1991), District and Circle (2006) and Human Chain (2010).
Heaney reading a statement from Chinese Nobel Prize winner and imprisoned human rights defender Liu Xiaobo as part of a campaign by Front Line Defenders, November 12, 2012.