Edinburgh awaits pitter-patter of tiny panda paws
Comments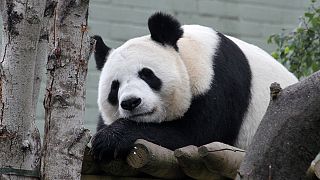 (Photo credit: Rob McDougall)
With bated breath, the animal-loving world is waiting for Edinburgh Zoo's giant panda to give birth. In Scotland, China and the US, scientists, vets, zoologists, and keepers are following her progress: her urine is tested daily, her moods reported hourly…but Tian Tian doesn't give a bamboo shoot.
She's uncooperative with her medical team; there was no way she was going to submit to an ultrasound scan.
She's lazy; she just lies around snoozing all the time.
She's grumpy; she doesn't like being disturbed.
She's not telling. No-one really knows whether she's pregnant or not. Pandas don't have baby bumps, their cubs only weigh around 150 grams (around 5 ounces) at birth.
After weeks of flirting and shaping up to the act, she and Yang Guang failed to mate earlier this year and the zoo intervened. Artificial insemination, they hoped, would do the trick. But mess with her and a giant panda can reabsorb a foetus, even at a late stage of pregnancy. So now there's nothing to do but wait, and watch.
The team at Edinburgh are on red alert: webcams are in place, vets are on standby. A panda expert (Haiping Hu) has arrived from China, new incubators have been delivered, a 24-rota has been drawn up, and all eyes are on Tian Tian.
The bets are on. Is she or isn't she? Will she or won't she? And if she does, will it be a boy or a girl? Will it be twins?
Who knows? And as for Tian Tian, she's still snoozing, which is a positive sign that she is indeed expecting the patter of tiny paws.