Tunisian opposition politician shot dead in Tunis
Comments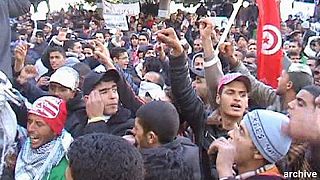 Tunisian opposition politician Mohamed Brahmi, who belonged to the nationalist and secular Popular Party, was shot dead outside his house in the capital Tunis on Thursday, a member of his party said.
Brahmi was a vocal critic of the Islamist-led government and a member of the Constituent Assembly charged with drawing up the North African country's new constitution.
"He was shot in front of his house when he was with his disabled daughter," Mohamed Nabki, a member of the same party,
told Reuters. "The killers fled on a motorbike."
Thousands of people protested on Thursday in Sidi Bouzid, the birthplace of the Tunisian revolution, after leading opposition politician Mohamed Brahmi was assassinated in the capital Tunis, witnesses said.
"Thousands have taken to the streets, people have blocked roads and set tyres alight," said Mehdi Horchani, a resident in
Sidi Bouzid. "People are very angry."
The February assassination of another secular politician, Chokri Belaid, ignited the worst violence in Tunisia since the 2011 fall of autocratic President Zine al-Abidine Ben Ali.
Reuters