ECHR upholds ban on Hungarian far-right group
Comments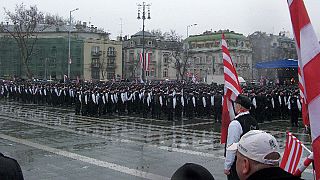 The European Court of Human Rights has ruled that the banning of a Hungarian far-right nationalist group by a Budapest court was legal.
The Strasbourg-based ECHR decided that the dissolution of the Magyar Gárda organisation did not violate Article 11 of the European Convention on Human Rights, relating to freedom of assembly and association.
The Magyar Gárda Egyesület (Hungarian Guard Association) was founded on May 8, 2007, by the right-wing political movement Jobbik Magyarországért Mozgalom (Movement for a Better Hungary). On July 18, 2007, the Magyar Gárda created the Magyar Gárda Mozgalom (Hungarian Guard Movement). This movement, whose president was Gábor Vona, while described by most observers as neo-nazi and neo-fascist, defined its own mission as "defending a physically, spiritually and intellectually defenceless Hungary." The members of this Movement dressed in uniforms and held rallies and demonstrations throughout Hungary and called for the defence of "ethnic Hungarians" against the so-called "Gipsy crime," according to the ECHR.
After a demonstration organised in the village of Tatárszentgyörgy on December 9, 2007 – an event Amnesty International called "a violent attack against Roma in Hungary," – Budapest's Chief Prosecutor's Office lodged a court action seeking the dissolution of the Magyar Gárda Association for its abuse of the right to freedom of assembly and for violating the rights of the Roma. A Budapest Regional Court ruled in favour of the Prosecutor's Office and the Association was disbanded on December 16, 2008.
The Association appealed against this decision but the judgement of the Budapest Regional Court was upheld by the Budapest Court of Appeal in July, 2009. According to the European Court of Human Rights "in the court's view, the events organised by the Movement amounted to a danger of violence, generated conflict, attacked public order and peace and violated the right to liberty and security of the inhabitants of the villages, even if each of the demonstrations, strongly controlled by police forces, had finished without any acts of actual violence."
The Association's representatives applied for a review by the Supreme Court which upheld the initial judgement in December 15, 2009. Gábor Vona complained to the ECHR under Article 11 of the Convention: arguing that the dissolution of the Association violated his right to freedom of assembly and association.
The Court, however, held unanimously that there had been no violation of Article 11 and ruled that the State was entitled to take preventive measures to protect democracy. Gábor Vona thus lost his appeal to the European Court of Human Rights.
"A movement created by Mr Vona's association had led to demonstrations conveying a message of racial division, which, reminiscent of the Hungarian Nazi Movement (Arrow Cross), had had an intimidating effect on the Roma minority," the ECHR stated in a press release. "Indeed, such paramilitary marches had gone beyond the mere expression of a disturbing or offensive idea, which is protected under the Convention, given the physical presence of a threatening group of organised activists. Therefore, the only way to effectively eliminate the threat posed by the movement had been to remove the organisational backup provided by the association."