Eurogroup chief under fire over Cyprus bailout
Comments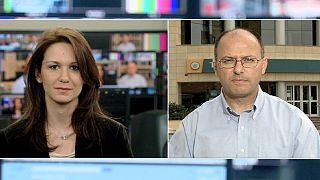 Eurogroup chief Jeroen Dijsselbloem is under fire from fellow EU officials over comments he made about the Cyprus bailout deal.
The Dutch Finance minister, in the job for just two months, is already facing criticism for his handling of the Cypriot case.
He gave an interview on Monday describing Nicosia's bailout as a 'model' before U-turning hours later. A European Commission spokeswoman suggested Cyprus was a specific case, saying "That doesn't mean that it is a perfect model that should be re-used in the future."
Depositors with sums greater than 100,000 euros could see 40 percent of their savings converted into shares of two sick Cypriot banks.
The Cyprus bank bailout



The bailout will mean a significant restructuring of Cyprus' banking sector


The country's second largest bank, Laiki bank, will be split into two parts, a "bad bank" and "good bank", before being closed, incurring thousands of job losses


Deposits in Laiki bank of less than 100,000 euros (effectively the "good bank") are insured by EU law and will be transferred to the country's biggest bank, Bank of Cyprus


Deposits in Laiki bank of more than 100,000 euros are not insured by EU law and will be put into the "bad bank"


Deposits in this "bad bank" and deposits of more than 100,000 euros in Bank of Cyprus will be frozen and used to pay Laiki's debts and recapitalize Bank of Cyprus. These uninsured depositors will have to face forced losses of up to 40% on their deposits