Maria Grazia Cucinotta on Italy, fashion and a magic wand
Comments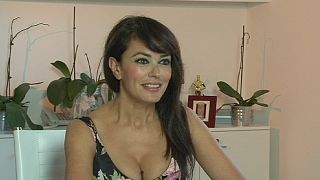 Already known in front of the camera, the Italian actress Maria Grazia Cucinotta is also making her way in Hollywood as a film producer.
'Il Postino' brought her to world attention in 1994, but she was also a Bond-girl in 'The World Is Not Enough'.
Originally from Sicily, Maria Grazia Cucinotta now lives and works in Los Angeles.
As part of the euronews special coverage of the Italian election, we met her on a visit to Rome to find out how she thinks her country has evolved in recent years.
Eri Garuti, euronews: "Maria Grazia Cucinotta, you are often seen as the incarnation of Italian beauty in the world. When did you realise that you were identified with your country?"
Maria Grazia Cucinotta: "The first time I felt this responsibility was when I was at the Oscars for the film 'Il Postino'. For the first time I felt not only proud, but also happy to be Italian, because I realised that the world loves Italy, Italian women, everything that says Made in Italy; the culture, the poetry – and for the Americans, all that is summed up in my image."
euronews: "Is there anything about Italy that bothers you?"
Cucinotta: "Italians don't know how to promote themselves, so when I am abroad I hear bad things said about my country. The last 15 or 16 years the newspapers have been full of it. To get at one man, Berlusconi, they have targeted a whole country. But it's not the fault of all Italians, on the contrary. There are those who get up early to work hard and make sacrifices to advance the image of Italy and the Made in Italy brand."
euronews: "Let's talk about the differences between Italy and the US as far as work and production is concerned – you've lived there for eight years and have produced films…."
Cucinotta: "It's quite different. Those who make it to the top really are those who deserve it. It's wonderful, it's everybody's dream – to be paid for what you're worth, for what you've done. If that doesn't happen it's disappointing. So Italy should become a much more meritocratic country, and learn how work together."
euronews: "You were a model in the past – do you think fashion could be one way to kickstart the Italian economy?"
Cucinotta: "Fashion is our best ambassador. We are known throughout the world for fashion and the Made in Italy label."
euronews: "And what role could cinema play?"
Cucinotta: "Cinema played an important role in the past. The Italian masters were a point of reference for everyone in cinema. Unfortunately, our films are not distributed well. In the past, our films went everywhere in the world, making our stars known. Nowadays that rarely happens.
"I was lucky because my film, 'Il Postino', was released worldwide and made me well-known. But the majority of our films, even the beautiful ones, don't get enough exposure overseas. That's not only a shame for the actors but for Italian culture too. When a film does the rounds it also promotes a territory, it attracts people, it boosts tourism, it makes Italian culture better known and appreciated.
euronews: "You are married and the mother of a daughter, and you hold family life very dear. In your view, is the family something traditional, or are you also in favour of marriage and adoption for same-sex couples?"
Cucinotta: "For 12 or 15 years I've supported all the organisations against homophobia. I believe that if there is real love, then the freedom to choose must be given to all human beings. So I'm in favour of gay couples, who love each other and who want to adopt a child to give it love."
euronews: "Where does Italy stand on civil rights and discrimination? Is it doing well, or is there still some way to go?"
Cucinotta: "There are still things to be done, obviously. Prejudice often wins over intelligence. We have to sweep away this fog in people's heads and make them understand that everyone has the right to live as they want, as long as they don't harm others. When two adults decide to live together, they should have the right to do it and to love each other.
euronews: "In 2005 you produced the film 'The Invisible Children', which tells the story of seven children suffering injustice and violence in different parts of the world. Do you think that by defending the rights of children, you're also defending our future?"
Cucinotta: "For me, defending children's right is fundamental in life. And it should be for everyone, because childhood is one of the most beautiful times of our lives. Children must not endure problems, they should smile, dream and lay down the foundations of their lives.We shouldn't protect them simply because they represent the future, but also because they are living beings and if those foundations are cracked that person will always have problems."
euronews: "Finally, what's your main wish for the future?"
Cucinotta: I'd like a magic wand so I can change everything which isn't right in this world. And if we are all together, this magic wand might well appear…"
euronews: "Are you sure?"
Cucinotta: "I am certain of it, yes, above all if I look back. When I go back to Sicily where I grew up – my mother still lives there – and I look through the window and see where I was and where I am now I feel I am the happiest person in the world. And I never forget it. Every day of my life when I wake I look around me and say, this isn't a dream."