Euro leaders back 130bn growth plan
Comments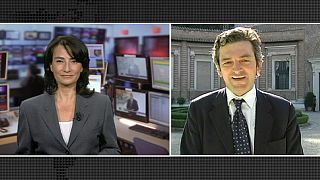 The leaders of Germany, France, Italy and Spain have agreed on a 130 billion euros package to try to revive economic growth in Europe.. but differences remain over whether and how to launch joint bonds to combat the euro zone's debt crisis.
After a four-way summit in Rome's Renaissance Villa Madama, Italian Prime Minister Mario Monti said the European Union should adopt a series of growth measures worth about 1 percent of the region's gross domestic product at a summit next week.
No new measures were announced as steps already being taken include launching project
bonds to co-finance major public investment programmes.
But their failure to mention combining euro zone debt suggests talks to save the single currency will continue for some time.
Simona Volta, euronews: To discuss the results of this four-way summit in Rome's Renaissance Villa Madama between Italy, Germany, France and Spain, we're joined by economy expert Luigi Spinola.
So it appears the four European leaders have broadly agreed, what do you think was the most important thing to come out of today's talks.
Luigi Spinola: "Well, first of all we have to say that this was just a working group, an important step though before next week's Brussels summit. Previously, such meetings were only held between France and Germany. Today the group's been expanded and that's a crucial change. Nonetheless, Angela Merkel and Francois Hollande would surely have liked to have made their mark regarding a convergence of ideas on a financial transaction tax, the Tobin tax, which was approved by all present, and Hollande made it clear it will be applied with a reinforced cooperative mechanism.
What's more, this informal summit has effectively given its blessing to the stimulus package drawn up by the French president."
euronews: "Each leader underlined the importance of growth. They've promised that an additional one percent of the bloc's GDP will go towards a growth package. Merkel spoke of European solidarity but given the strength of the crisis, isn't such talk a little too late?"
LS: "We could say it's never too late. There've been lots of changes, no only in an economic contexte but also political. Not so long along France had a different president who had a different vision. Now Hollande's making his political presenc felt. The desire to change has become a priority, you can even hear it in Merkel's speech. It's the time to talk about growth and jobs."
"Regarding more concrete matters, we have to remember that they stressed that growth must be implemented on a national level and be accompanied by tough political measures. The French president has to get his own house in order and that will be very difficult. Merkel and Monti say they're convinced that beyond such measures, there's a real need to make structural reforms and liberalise the European market."
euronews: "One last question, what type of road-map have the European leaders drawn up for next week's European summit?"
LS: "That's a good question. In relation to financial instruments and their capacity to respond to the crisis, we know there's been some progress towards banking union but we're expecting news about the European Stability Fund. It was clear to everybody that the objective for the Brussels summit is to devise a plan for more political integration, because without it we can't have a banking or fiscal union."
"The most important declaration on this came from Francois Hollande who said that France would be ready to give up some of its sovereignty in exchange for more solidarity. So, therefore, sharing the eurozone's debt, greater political integration and less sovereignty must all come together."