Syrian opposition activist blasts own leaders
Comments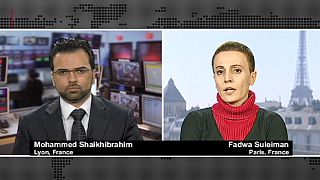 Fadwa Suleiman has been portrayed by the international media as a hero of the Syrian uprising.
The Aleppo-born activist is of the same Alawite minority sect as President Bashar al Assad.
After watching the Syrian uprising unfold, the famous stage actress travelled to the besieged city of Homs and made a video calling for Syrian's to stand up for freedom.
She's since become one of the most recognisable faces of the uprising, for a while regularly taking part in public rallies.
Suleiman's campaign has been forced underground in recent months. Under intense pressure, two days ago, she escaped from Syria.
She spoke to euronews from Paris.
Mohammed Shaikhibrahim: How did you get out of Syria?
Fadwa Suleiman: It was difficult to get out of Syria. I got out illegally. You'll have to excuse me, I cannot tell you how, because other Syrians need to get out in order to escape massacres, killings and the war there.
euronews: You left Syria two days ago. What's the situation there? How would you describe it?
Suleiman: I am sorry to say that we have reached a dead end; there is no political solution.
The revolution has become an armed revolution and this was not what we were aiming for. It is just a reaction to the violence of the Syrian regime.
If we use weapons to overthrow the dictatorship, there will be no democracy afterwards. Breaking the regime by using weapons will not bring us democracy. It will lead to more bloodshed, more massacres.
There is a serious problem with our leaders also. They have been working on the issue for more than a year without any satisfactory result – without any political solution – in our view.
euronews: Which politicians you mean? The opposition side or those who are in power?
Suleiman: Those of the opposition, of course.
euronews: Are you saying that the Syrian opposition has failed to pursue the real aims of the revolution in Syria?
Suleiman: Yes, they failed to keep the revolution peaceful. We are against arming the people.
If we want this lying regime to step down, this regime that says one thing and does another, obviously we do not want the same from the opposition leaders also, otherwise they will become just another face of this regime.
The opposition leaders were not clear with us. They did not openly give us a clear picture, they did not show us their programme or strategy.
They did not identify themselves. They did not say to whom they belong, to which organisations.
Who are the members of the Syrian National Council? Who are these people?
We don't know. We only know some of them. Their appearance is secular but maybe they belong to something else.
They have not shown any document to prove that they have a strategy. They conduct lots of meetings and yet they produce no result.
euronews: As a Syrian actress, do you dare to mention the names or parties of these people? …these people who are trying to profit in some way from the Syrian situation, as you are saying?
Suleiman: Yes, I dare to say them. One day I will, but not now.
Also read: Sanctions on Syria – can they help topple a regime?