NATO not fazed by WikiLeaks releases
Comments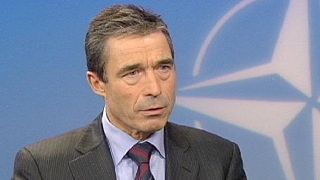 Among the organisations placed in the spotlight by the recent WikiLeaks' release of confidential military and diplomatic documents is NATO.
In his first public response the alliance's Secretary General Anders Fogh Rasmussen told euronews the revelations will not affect its policies.
He also spoke about NATO's future and the role of its forces in Afghanistan and elsewhere.
Miguel Sardo, euronews
"Mr Rasmussen, thank you for receiving us here, in the headquarters of NATO in Brussels. These last weeks were marked by the disclosure of several US diplomatic cables, some of them concerning discussions on NATO issues. Are you afraid that somehow these revelations could affect the consensus achieved during the NATO summit in Lisbon?"
NATO Secretary General Anders Fogh Rasmussen
"No, actually, I don't think so, the fact is that the content of these cables are not 'breaking news'. We do not comment on classified documents as a matter of policy but, in general, I can tell you they will not have any impact on our policies."
euronews
"Some of these cables, evoke a NATO plan to protect Baltic countries against a Russian attack. Was Russia aware of this plan when you discussed with Mr Medvedev in Lisbon the re-establishment of relations between NATO and Russia?"
Anders Rasmussen
"We never comment on our plans on how we are going to defend our allies, but I don't think it comes as a surprise to anybody that a defence alliance such as NATO, of course, has all appropriate plans in place to protect our populations against any threat."
euronews
"Do you think that these revelations could affect the re-establishment of cooperation between Russia and NATO?"
Anders Rasmussen
"No, I feel confident that we will maintain the positive spirit from our meeting in Lisbon, because it is of mutual interest. Obviously we do have our disagreements with Russia, but the bottom line is that there are a number of areas in which we share security interests with Russia, just to mention some of them: Afghanistan, counter-terrorism, counter-piracy, protection against proliferation of weapons of mass destruction, and missiles, and all that. And we should develop practical cooperation in those areas where we share interests. And that was the decisions taken at the Lisbon Summit and I think this spirit of Lisbon will prevail."
euronews
"But I can remember at least one public position of NATO about the WikiLeaks cables, last week, when Nato condemned the release of some information concerning the existence of US nuclear weapons from the 1950s in at least four European countries. Can you confirm the existence of these weapons?"
Anders Rasmussen
"I do believe WikiLeaks action is damaging for international diplomacy, because international diplomacy is also about having confidential talks with other countries – even with adversaries – with a view to achieving peaceful solutions to conflicts, and if there is a risk that confidential talks will be made public, then this channel will be destroyed or damaged and this is, of course, the reason why we condemn this action."
euronews
"One of the points of the new strategic concept of NATO is the removal of strategic weapons from the cold war from Europe, Russian weapons but also US weapons. There's a big debate about this issue as you know, but do you think that, at least the fact that these documents where released could somehow push the US to remove these weapons?"
Anders Rasmussen
"No, WikiLeaks will have no impact on our policies, we have presented our nuclear policies or our nuclear posture in the strategic concept that was adopted at the Lisbon Summit, and it rests on two pillars; on one hand we subscribe to the long term vision of a world without nuclear weapons, but on the other hand we also realise that we will need a nuclear capacity as part of our deterrence policy as long as nuclear weapons exist in the world."
euronews
"Talking about missile defence – the missile defence shield – first who will pay for it in times of economic crisis, and also who will push the button?"
Anders Rasmussen
"It will be a NATO based missile defence system, it means that command and control will follow the usual NATO rules, so it will be integrated in the NATO structures. And as far as the costs are concerned, we can built this territorial missile defence, at a very modest additional cost. And the reason is that the Americans use their existing missile defence as an important input to the NATO based system. Other European allies will put their existing missile defence system into the NATO based system as well, and by linking these existing systems together we can expand missile defence from being purely a protection of our deployed troops to be a protection of the whole population."
euronews
"Turning to Afghanistan – in Lisbon you agreed on a transition plan that will start in June next year, until 2014. What will happen after 2014, what will be the role of NATO? Are you considering keeping foreign troops in certain regions of Afghanistan?"
Anders Rasmussen
"Yes, I would envisage a continued presence of international troops also beyond 2014, but if the transition process is a success we will see international troops in a more supporting role. So they will stay in Afghanistan to assist the Afghan security forces, to train and educate Afghan security forces, help them if necessary. But the transition will start at the beginning of next year and hopefully will be completed by the end of 2014, and after that we will be in a more supportive role."