New barrage of Russian strikes in Ukraine kills at least 11
Comments
By Euronews en español with AP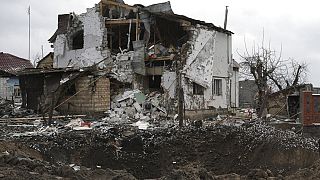 Russia fired more missiles and self-exploding drones at nearly a dozen Ukrainian provinces early Thursday, killing at least 11 people overall, according to the Ukrainian authorities.
The attacks adhered to Russia's recent pattern of striking power plants and other critical infrastructure however, the latest onslaught came after Germany and the United States upped the ante in Russia's 11-month war by promising Wednesday to send high-tech battle tanks to Ukraine and green-lighting other allies to do the same.
The spokesperson for Ukraine's State Emergency Service, Oleksandr Khorunzhyi, said that in addition to the deaths at least 11 people were wounded.
Kyiv's mayor Vitali Klitschko said one person was killed in the capital during the attacks, the city's first such death since New Year's Eve. Two others were injured, he said. The head of the Kyiv city administration, Serhii Popko, said Ukrainian air defences shot down 15 cruise missiles heading to the area.
The regional prosecutor's office in Ukraine's Zaporizhzhia province said three people were killed and seven injured in a strike on an energy facility. Valerii Zaluzhnyi, the commander of Ukraine's armed forces, said Thursday's volley involved a total of 55 missiles, of which 47 were intercepted.
Self-exploding drones swept in during the early hours before the missile strikes. As air raid sirens echoed across the country, civilians, some tugging pet dogs on leashes, poured into subway stations, underground parking lots and basements to seek shelter.
It was the first such barrage of Russian firepower across the country since Jan. 14.
Russia has carried out massive strikes on Ukrainian energy facilities since early October, part of a strategy to try to hamper Ukrainian forces and to keep civilians in the cold and dark this winter before what many experts predict could be a springtime offensive as more conscripts reach the battlefields.
Ukrainian Energy Minister Herman Halushchenko acknowledged that some sites were hit, resulting in emergency power outages.