Barrage of Russian strikes kill at least 11 and knock out power
Comments
By Euronews with Reuters & AP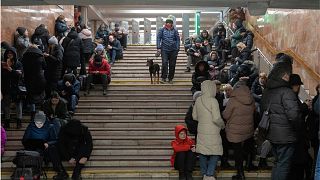 Russian forces fired another round of missiles and self-exploding drones across several parts of Ukraine early Thursday, causing 11 deaths across the country, even though air defences shot down many of the incoming projectiles.
The attacks adhered to Russia's recent pattern of launching widespread strikes about every two weeks. 
As air raid sirens echoed across the country, civilians, some with their pet dogs, poured into subway stations, underground parking lots and basements to seek shelter.
The latest onslaught comes after Germany agreed to supply 14 of its Leopard 2 tanks to Ukraine and consequently pave the way for other countries to do the same, including the US, which will send 31 of its own Abrams tanks.
Valerii Zaluzhnyi, the commander of Ukraine's armed forces, said Thursday's attack involved 55 missiles, of which 47 were intercepted.
Russia has targeted critical infrastructure with missile and drone strikes since October, causing nationwide blackouts and other outages during winter.
Ukrainian Energy Minister Herman Halushchenko said energy facilities were again targeted on Thursday by Russian forces who were "trying to cause a systemic failure in the energy system of Ukraine." 
He acknowledged that some energy facilities had been hit, resulting in emergency outages, and repair teams were working to restore power supply as quickly as possible.
The DTEK electricity company had also said it was performing emergency shutdowns of electric power in Kyiv, the rest of the capital's region, as well as the regions of Odesa and Dnipropetrovsk, due to the threat of an air raid.
Self-exploding drones swept in overnight before the missile strikes, in what a spokesperson for Ukraine's Southern Defence Forces said appeared to be a Russian attempt to overwhelm or distract Ukraine's air defences.